Paris Vacation Packages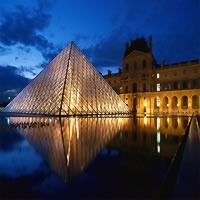 Paris, the city of lights, a picturesque dream destination, there is no surprise why it is one of the most famous cities in Europe and most visited worldwide. Known for its world-renowned fashion houses, the iconic Eiffel Tower, the Louvre Art Museum, Notre-Dame Cathedral, the Paris Fashion Week, endless cafes, and rich history, Paris is a bucket list destination for many people all over the globe. Moreover the Parc des Buttes-Chaumont is perhaps a little less formal than other green spaces in Paris but it is really worth the uphill stroll to get there, one of the citys most magical spot. Everyone from the artist, to the romantic, to the jaded world-traveler, will find inspiration in the city that casts a spell of enchantment.
Best Paris Vacation Packages:
9 nights from
$1,346
*
This breathless vacation package offers you a visit to these three fantastic countries: France, Spain and Portugal. Begin in Paris (the City of Lights, full of museums, plazas, narrow streets filled with shops, cafes and much more); then, continues to Barcelona (centuries of art, history and tradition); and, finally, Lisbon (the capital of Portugal; home of famed explorers, full or tradition, rich culture, and modern wonders). Travel between these frenetic cities by flights. This is a flexible vacation package. Select your number of nights in each city, desired hotel and activities.
Other Paris Vacation Packages:
Map of Paris
Map of Point of Interest
SUGGESTED Paris VACATION PACKAGES:
Paris - Barcelona - Rome by Air

9 nights from $1,209*

Paris - Barcelona and Amsterdam

9 nights from $5,179*

Paris - Barcelona and Lisbon

9 nights from $1,474*

Paris - Aix en Provence - Nice by Train

9 nights from $1,539*

Paris - Aix-en-Provence and the Provencal Coast

10 nights from $2,092*

Paris - Ajaccio and Western Corsica

Paris - Amsterdam - Barcelona by Air

9 nights from $2,528*

Paris - Amsterdam - Berlin - Dresden - Prague

10 nights from $1,957*

Paris - Amsterdam - Luxembourg by Train

9 nights from $1,722*

Paris - Amsterdam - Rome by Air

9 nights from $2,070*

Paris - Amsterdam and Barcelona

9 nights from $1,529*

Paris - Amsterdam and London

9 nights from $1,792*

Paris - Amsterdam and Prague

9 nights from $1,638*

Paris - Amsterdam and Reykjavik

Paris - Amsterdam and Rome

9 nights from $1,723*

Paris - Annecy - Provence - The French Riviera - Lyon by Train

15 nights from $2,683*

Paris - Athens - Istanbul by Air

9 nights from $1,505*

Paris - Athens - Mykonos by Air

9 nights from $1,996*

Paris - Athens - Rome by Air

9 nights from $1,903*

Paris - Athens - Santorini by Air

9 nights from $1,751*

Paris - Avignon - Arles by Train

7 nights from $1,788*

Paris - Avignon - Nice by Train

9 nights from $1,419*

Paris - Avignon and the Luberon

10 nights from $1,834*

Paris - Barcelona - Amsterdam by Air

9 nights from $4,582*

Paris - Barcelona - Athens by Air

Paris - Barcelona - Ibiza by Air

9 nights from $1,981*

Paris - Norman Countryside - Cote Fleurie (Self Drive)

9 nights from $1,741*

Paris and The D-Day Beaches (Self Drive)

7 nights from $1,399*

Paris - Rouen - Deauville

9 nights from $2,061*

Paris - Deauville - Mont Saint Michel

9 nights from $2,962*

Paris and Caen with Lisieux

6 nights from $1,358*

Best of the Loire Valley (Self Drive)

12 nights from $1,696*

Loire Valley Wine and Chateau (Self Drive)

15 nights from $2,840*

Paris and The Loire Valley by Train

Paris - Orleans - Bourges by Train

9 nights from $1,760*

Paris and The Southern Loire Valley (Self Drive)

7 nights from $1,683*

Paris - Chartres - Le Mans -Tours by Train

11 nights from $2,059*

9 nights from $2,154*

9 nights from $1,999*

Normandy and the Loire Valley (Self Drive)

11 nights from $1,249*

Paris - Chablis Wine Region - Dijon - Lyon (Self Drive)

10 nights from $1,516*

9 nights from $2,282*

Paris - Tours - Beaune - Geneva

12 nights from $2,778*

Paris - Rome - Dubai by Air

9 nights from $1,879*
CUSTOMER REVIEWS
4.7 out of 5 stars
►
39 Reviews
Your are the best and have people like VICKY RODRIGUEZ she is super goo ...

Traveled on:11/19/2021

We had a small glitch with transportation from the Rome airport, but absolutely no complaints about any other services. Hotels were outstanding and ev ...

Traveled on:11/18/2021

the hotel, hotel clos du notre dame, was so well and centrally located, its staff was friendly, helpful and accomodating. while the room was small (i ...

Traveled on:11/1/2021

Each hotel we booked was fantastic and perfectly described on website. The flights were great, and Tripmasters kept us informed of any flight changes ...

Traveled on:10/29/2021

I honestly don`t know what you could have done to make it any better. I guess the only thing that I can think of is that it was very confusing figuri ...

Traveled on:10/26/2021
Paris: Point of Interest Map